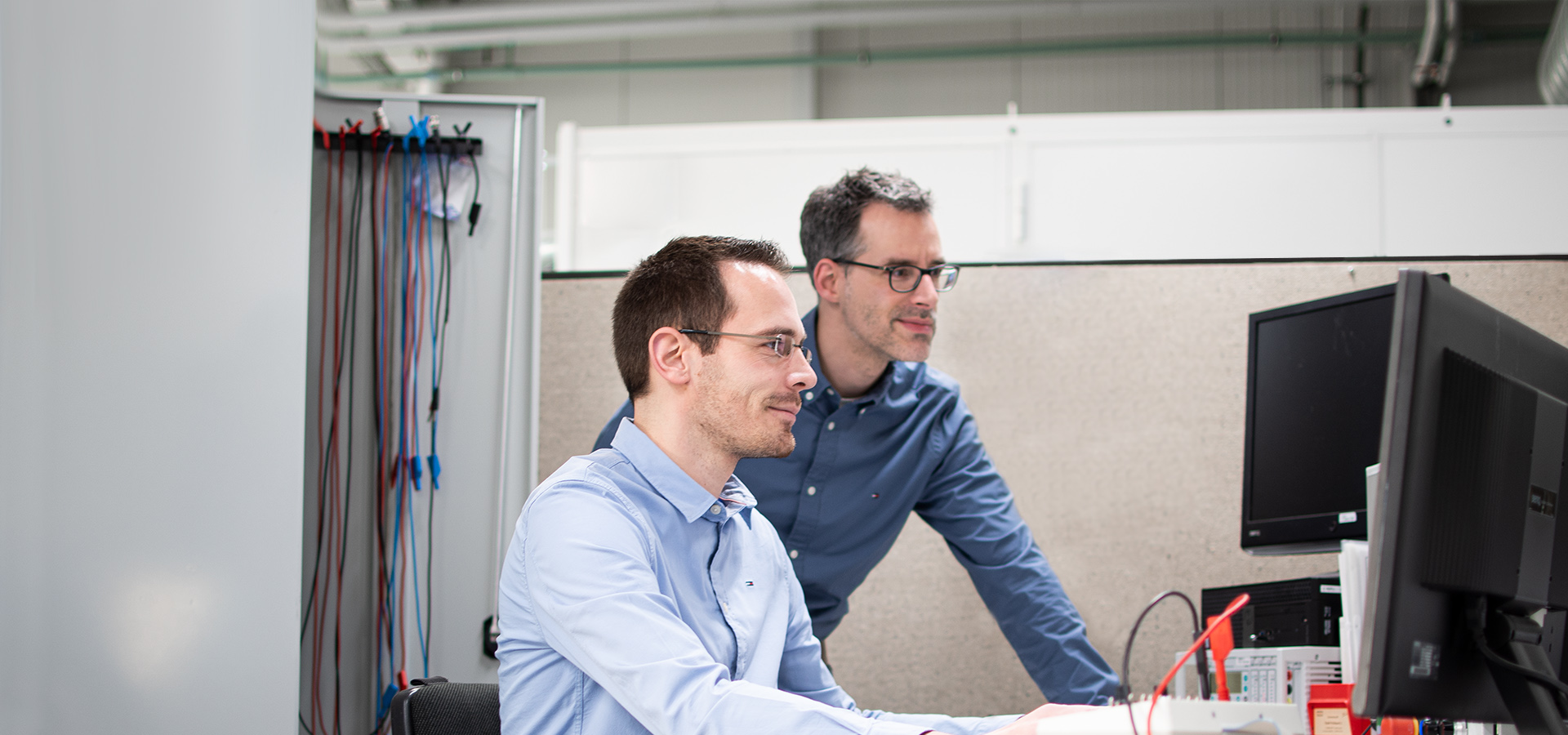 We have been shaping the future since 1972
In 1972, Karl-Ernst Brinkmann (or KEB for short) laid the company's foundations with the development, production and sales of brakes and clutches. What began with six employees in Barntrup (Germany) has now developed into a globally operating systems supplier in the area of automation. Countless customers, including many market leaders, rely on KEB products in their machines and systems.
Today, KEB employs around 1,550 people, roughly 1,200 of whom work at the sites in Germany. Research and development are important to us, and we are therefore involved in various research projects. We are also one of 27 core companies in the leading edge cluster known as "it's OWL" (Intelligente Technische Systeme OstWestfalenLippe – Intelligent Technical Systems of East Westphalia Lippe). We have grown steadily under our own steam and are now in the hands of the second family generation. That may be just a small detail, but we are immensely proud of it.
Facts and figures that we're proud of.
1
KEB has been synonymous with "Made in Germany"- quality for 50 years.
1
employees around the world
1
apprentices and students
In addition to the headquarters in Barntrup, the Heilbronn site is experiencing dynamic development. Alongside sales, we also carry out development here. Furthermore, we have sales offices in Bielefeld and Herborn. Our industrial geared motor skills are based in Schneeberg, with KEB Antriebstechnik GmbH.
Barntrup is a town with a population of approx. 8,800 in the Lippe district of the German state of North Rhine-Westphalia. The town borders the Lower Saxony county of Hameln-Pyrmont to the east. The region draws visitors to its Teutoburg Forest/Egge Hills nature park, and is dominated by forests and sweeping landscapes. In addition to many traditional half-timbered "Dielenhäuser" (wide, open houses with high hallways), Barntrup also boasts cultural buildings such as the evangelical church and a castle. Leisure time can be spent enjoying sports activities, nature, music, the public outdoor pool or the city's restaurants. KEB Automation is one of the largest employers in the Lippe district.
A thriving site
Premises covering 60,000 m²
We are KEB Barntrup
1,000 employees at the HQ
We guarantee variety
Production, development, sales and management
Heilbronn is a city in the southern German state of Baden-Württemberg and, with a population of around 126,000, the seventh largest city in the state. The city lies on the river Neckar around 30 miles north of the state capital, Stuttgart. Heilbronn is one of the most important business locations in Baden-Württemberg. Since February 2020, it has also been one of the state's five university towns, alongside Tübingen, Constance, Mannheim and Ulm, so there are plenty of promising opportunities for further training. The Heilbronn region is famous for its many vineyards and tradition of viticulture. In 2019, a new district was developed in Heilbronn as part of the Federal Horticulture Show (Bundesgartenschau).
A flourishing site
1,400 m² of administrative offices
Working in new premises
New building in 2018
We guarantee variety
Development, sales and management
The mining town of Schneeberg is in Saxony and has a population of around 13,700. In addition to many places of interest which give visitors an insight into the region's mining tradition, the redeveloped historical city centre is particularly striking. The radon therapy spa is just a few miles away from Schneeberg, in Bad Schlema up in the Ore Mountains (Erzgebirge). The Ore Mountains are ideal for enjoying long hikes along well-developed mining trails featuring marked stations highlighting points of interest. Challenging mountain bike routes can also be found in the surrounding area. The winter season can be spent at one of the numerous Christmas markets, which feature the traditional Miners' Parades.
A thriving site
Production space covering 14,000 m²
We are KEB Schneeberg
160 employees
We guarantee variety
Development, production, sales and management