DOUBLE BRAKE
COMBISTOP 38D
The 38D double brake doubles the safety level and covers a range that is prepared for tasks with redundant brake circuits. The mechanical design with two safety spring-applied brakes, which are completely independent of each other, meets the requirements according to DIN 56950 (BGV C1). The redundant brake system is delivered ready for use and adjusted by KEB.
The double brake has a torque range of 5 to 3,000 Nm.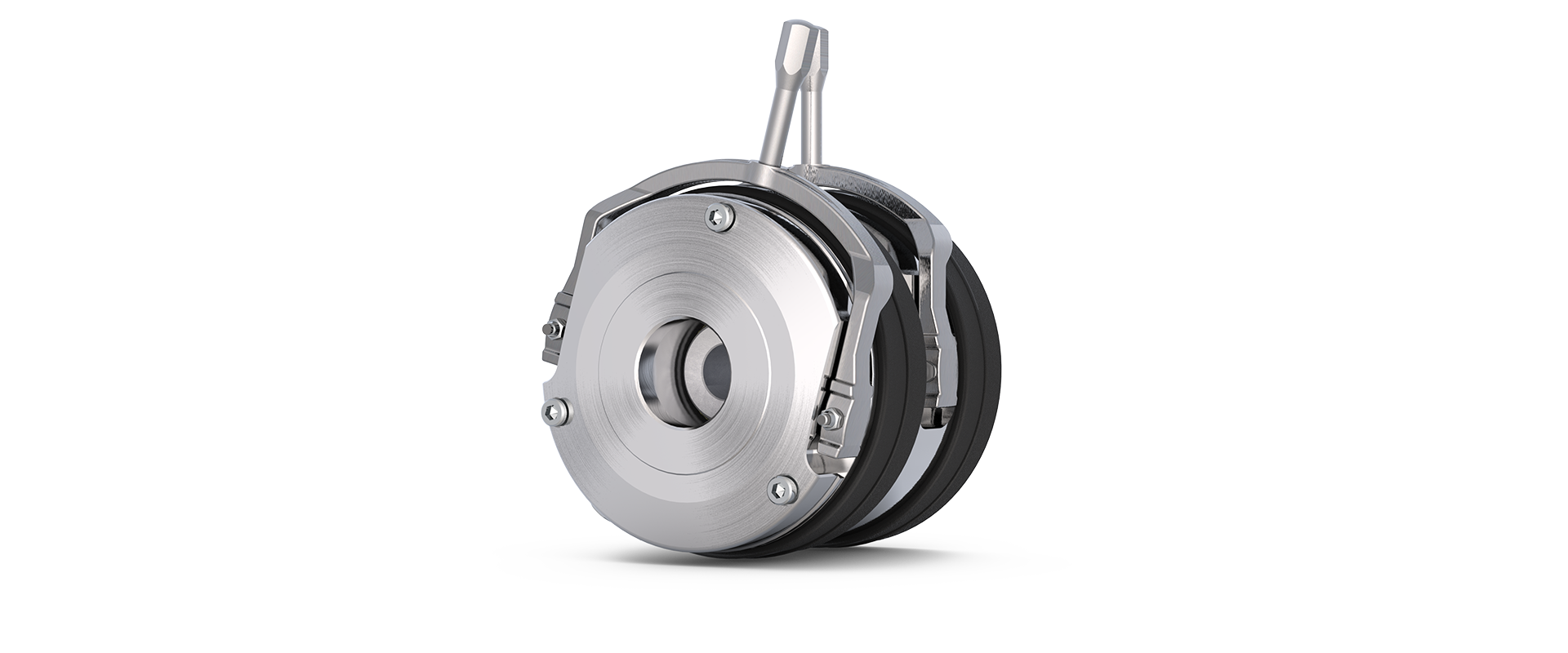 Ten sizes

Two redundant brake circuits

Ready to install, adjusted air gap

Used as a service brake or holding brake

Up to ISO class H in accordance with VDE 0580

CSA/CUS-certified

Protection class up to IP67

Designed for S1 operation or 100 % duty cycle

Up to seven million switching cycles as standard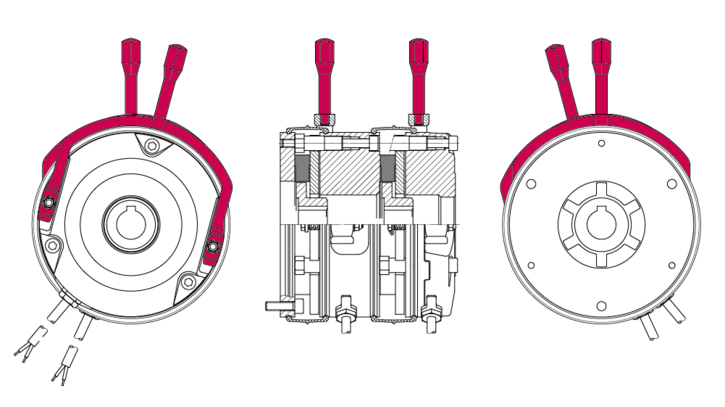 The COMBISTOP 38D can optionally be equipped with a hand release so that it can be opened manually.

The benefits of this are most obvious in de-energised situations when the application still needs to be moved. Even if a rotor is worn, the brake can be released with the hand release.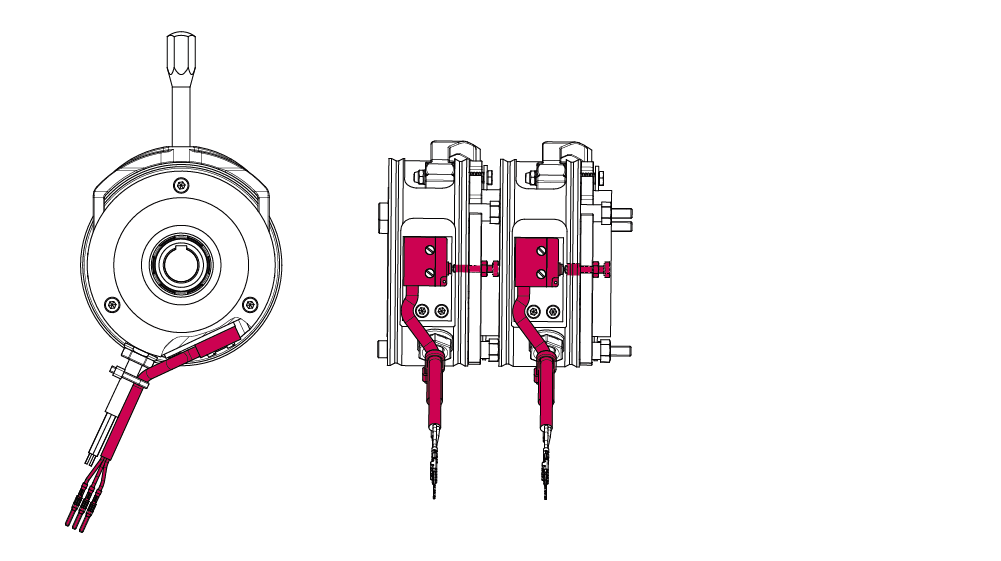 The COMBISTOP 38D can be equipped with a microswitch to monitor performance or wear and tear.

Using a COMBISTOP 38D with a microswitch makes particular sense for brake motors on hoisting gear and load lifting systems that are operated with frequency inverters.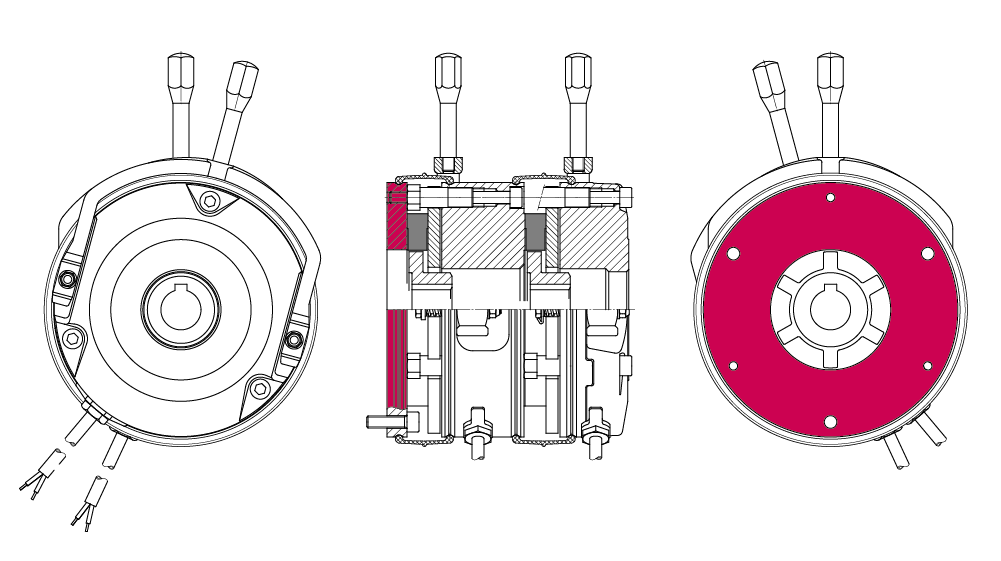 The COMBISTOP 38D can optionally be equipped with a flange or alternatively, for the smaller sizes, with a friction disc.
If the motor endshield lacks the appropriate properties, such as material quality or evenness, a flange or friction disc provides an optimal counter-friction surface.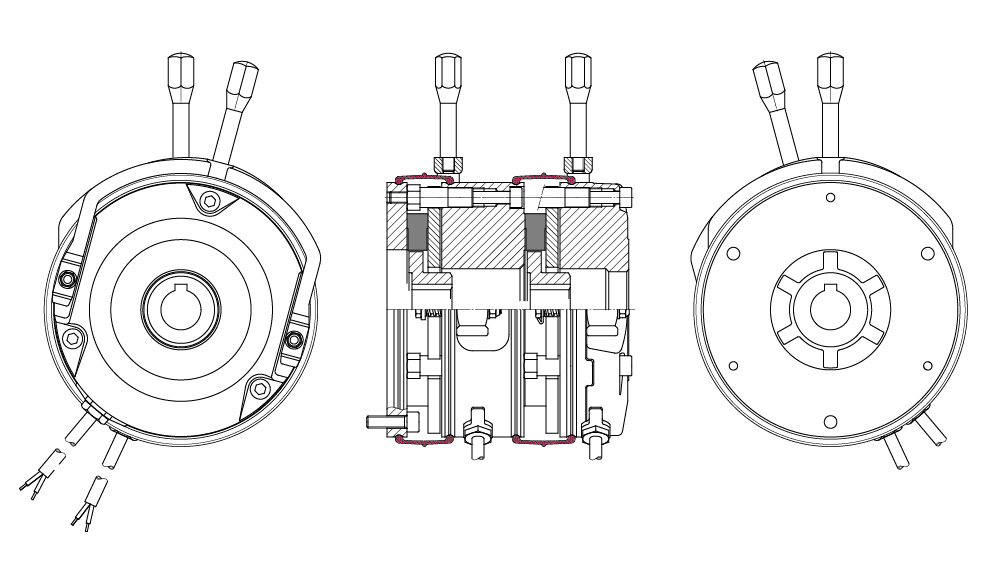 The COMBISTOP 38D can optionally be equipped with a dust protection ring to increase the IP protection class for dusty and damp environments, or to provide protection against accidental contact.
IP54 protection can be achieved under the motor hood by installing a dust protection ring – and up to IP44 at the open end of the motor.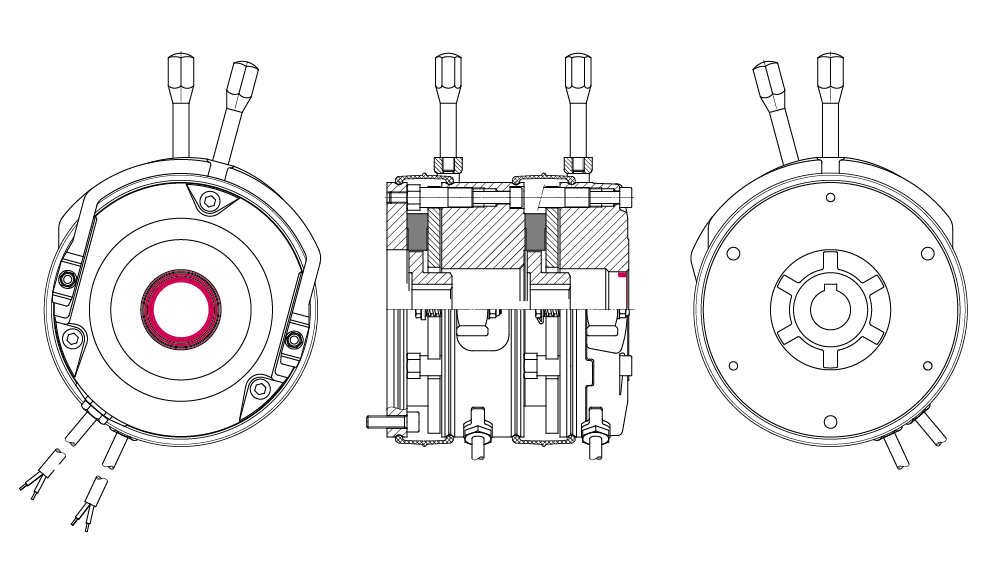 If the continuous shaft on the COMBISTOP 38D needs to be sealed against the external environment, it can be equipped with a shaft sealing ring.
Where there is no shaft, the COMBISTOP 38D can be sealed with a sealing plug.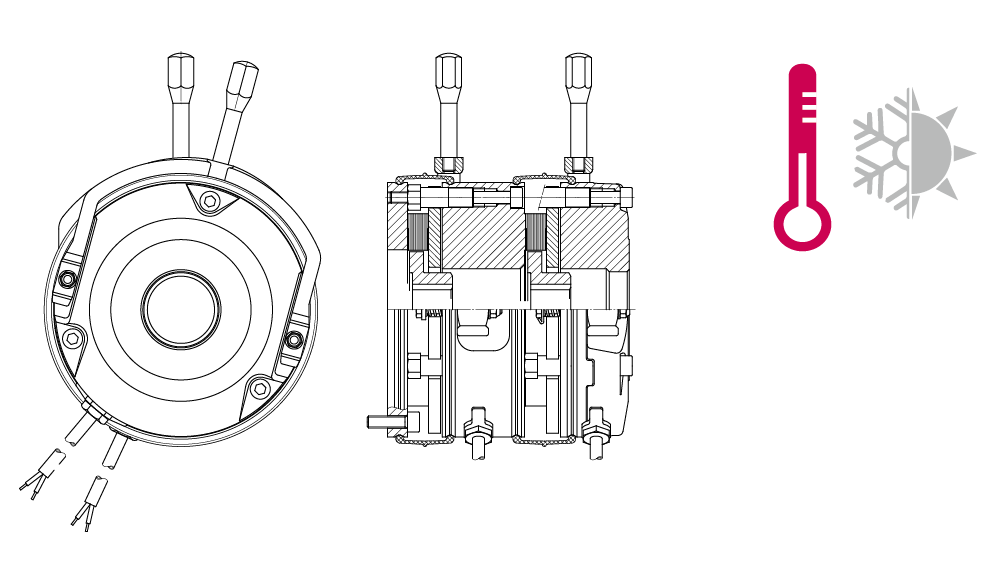 The COMBISTOP 38 is available in a CCV design for use in particularly harsh and cold environments. Temperatures as low as -40 °C are therefore no problem for the brake.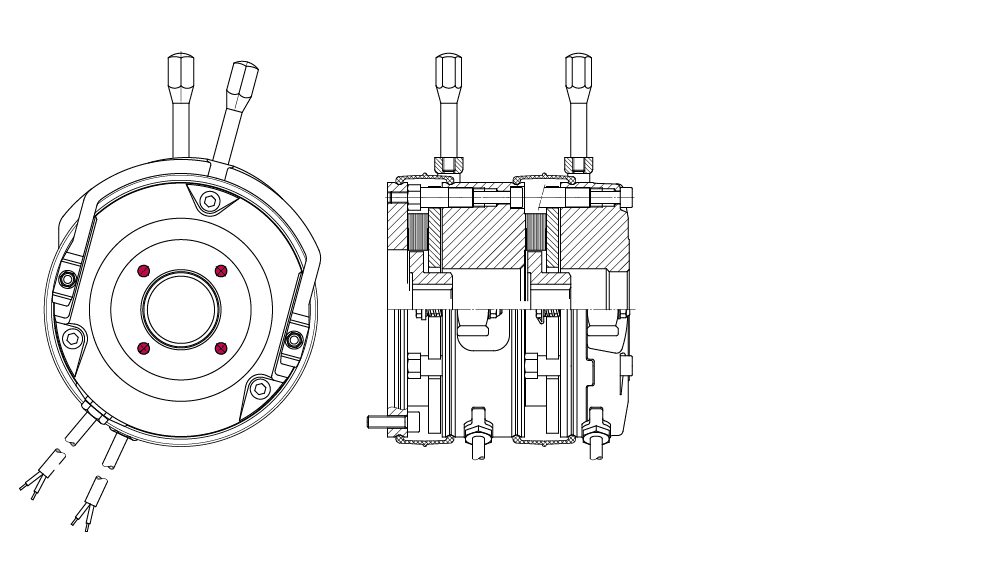 If you wish to attach a rotary encoder, fan or sensor to the back of the brake, the COMBISTOP 38D can be produced with rear-side threaded holes in the required size and corresponding bore hole pattern.
If it is intended that the end products will also be used on the Canadian or American market, the relevant certification can be obtained for the COMBISTOP 38D.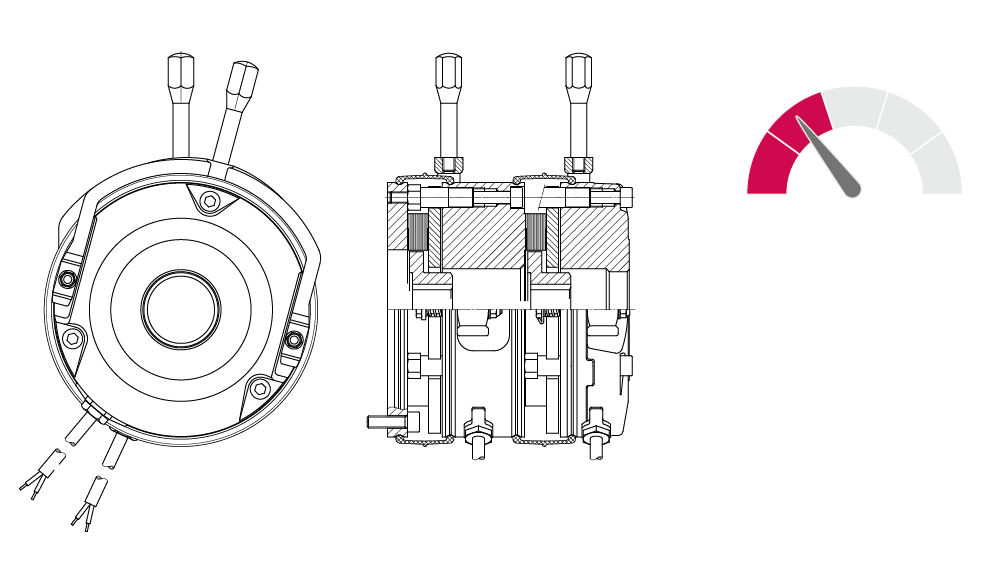 If the braking torque needs to be modified for the application, the torque can be increased or reduced according to the customer's specifications during the internal production process.
Operating brake
Holding brake
max. Hub bore [mm]
Size
Torque [Nm]
Power [W]
Torque [Nm]
Power [W]
02
2 x 5
2 x 25
2 x 7,5
2 x 25
15
03
2 x 10
2 x 30
2 x 15
2 x 30
20
04
2 x 20
2 x 30
2 x 30
2 x 30
25
05
2 x 36
2 x 48
2 x 50
2 x 48
30
06
2 x 70
2 x 62
2 x 90
2 x 75
35
07
2 x 100
2 x 65
2 x 150
2 x 90
45
08
2 x 150
2 x 75
2 x 225
2 x 90
60
09
2 x 250
2 x 80
2 x 375
2 x 115
60
10
2 x 500
2 x 130
2 x 750
2 x 180
75
11
2 x 1,000
2 x 180
2 x 1,500
2 x 280
on request
Standard voltage: 24 V, 105 V, 180 V, 205 V | Standard voltage: on request
In use in these areas of application
No product cards found!