Switching off the 3G network
So that there is no radio silence
About 20 years ago, the mobile internet age began its triumphant march with the third mobile phone generation (3G). Nevertheless, this technology is now outdated. In Germany, for example, the 3G mobile networks of the network operators Telekom, Vodafon and Telefónica will soon be gradually switched off. This step is necessary to free up the frequency bands for 4G/LTE and 5G. Furthermore, the 3G standard is now simply obsolete, as 4G/LTE is much faster and more widespread. 2G, on the other hand, will remain for calls and SMS. Within Europe, more mobile providers have already switched off or will do so in the near future. Check with your network provider for the exact date.
Planned dates for the nationwide shutdown of the 3G network in Germany:
Deutsche Telekom: 30.06.2021
Vodafone: 30.06.2021
Telefónica: end of 2021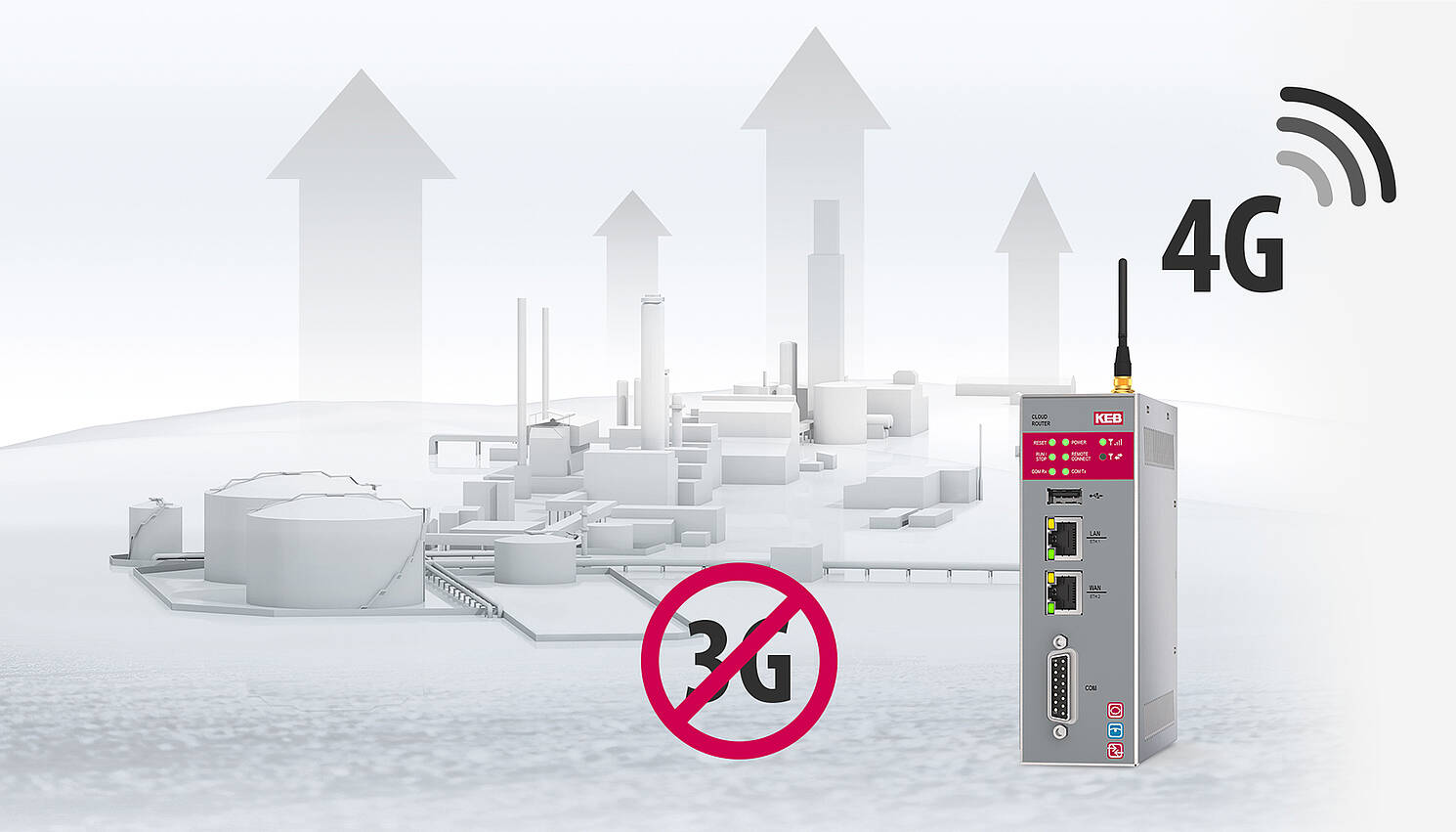 What does this mean for the industry?
Anyone who continues to operate 3G routers after the switch-off will only be able to use the 2G network. This significantly reduced data rate is no longer sufficient for the communication of many applications from the Industrial Internet of Things (IIoT) sector. Severe delays in data transmission as well as disconnections are thus hardly avoidable. Therefore, it is usually not an option for plant operators to accept the reversion to 2G. Where possible, the only option is to switch to the newer 4G/LTE network.

What alternative does KEB offer?
For some C6 routers from KEB, the shutdown of 3G also means that mobile data communication will no longer be possible, or only possible to a very limited extent. An upgrade of these devices to 4G is not possible. The old 3G devices can still be used in conjunction with wired Internet. As a replacement for the old hardware, the C6 router with integrated 4G modem is available for remote monitoring of machines and plants
C6 router with integrated 4G modem
Proven

COMBIVIS connect

software connects the plant to be monitored to your workstation via VPN
Additional HMI functionality for data logging, long-term machine diagnostics and notification via e-mail and SMS dispatch
After a few minutes of router configuration, worldwide access to remote devices to be maintained and monitored is realized – regardless of device type and manufacturer
For more information click

here
Your contact at KEB Automation
Michael Zacharewicz
Head of Product Management and Systems