STANDARD PERMANENT MAGNET BRAKE
COMBIPERM P1
The COMBIPERM P1 is a powerful permanent magnet brake with a frictionally engaged, backlash-free effect. In the energised state, the magnetic field of the permanent magnet is cancelled and the connected component can rotate without residual torque. In the event of an emergency stop or if the power is switched off, the safety brake engages, brakes and holds the drive safely in position. Thanks to the short switching times and the compact design, these brakes are ideal for servo motors and the medical industry.
The standard brake has a torque range of 0.1 Nm to 194 Nm.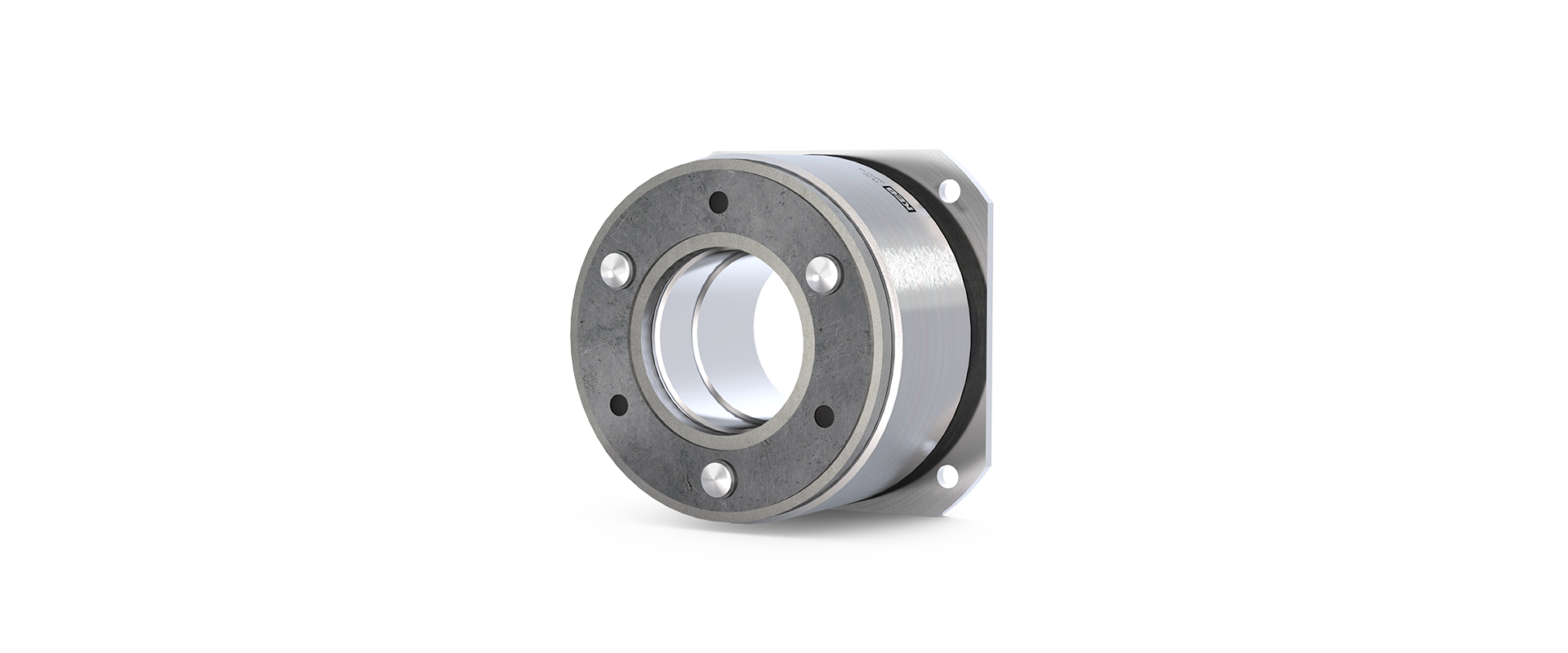 10 sizes

Backlash free

Frictional engagement

Release without residual torque

ISO class F in accordance with VDE 0580

CSA/CUS certification

Designed for S1 operation or 100 % duty cycle

Up to ten million switching cycles as standard

Up to 10,000 rpm

Standard voltage 24V
If the COMBIPERM P1 is to be installed in an extremely small assembly space, we recommend choosing the screw connection at the back.

This means that no additional flanges are needed for the screw connection.

The bore hole pattern, threaded hole diameter, threaded hole depth and the number of threaded holes can be adapted to the customer's requirements.
The COMBIPERM P1 design with hub on the outside is the version that is easiest to install.
In this case, the armature is attached to the shaft outside the magnet casing.

At the customer's request, the hub can be designed both with and without a continuous keyway and threaded holes, with threaded pins in the hub.
If the application requires a modified voltage, a customised coil with the corresponding voltage can be realised in the internal production process.
If the assembly process of the brake has to be simplified, our products can be equipped with ready-to-connect cables with plugs, contacts or even wire end ferrules.
A factory certificate 2.1 according to DIN EN 10204 that the delivered products comply with the agreements at the time of order can be provided at the customer's request. This certificate is issued based on non-specific testing. Also, an acceptance test certificate 3.1 according to DIN EN 10204 can be issued at the customer's request. In this case, the confirmation is given with the results of specific tests, such as the torque test.
| | | | | |
| --- | --- | --- | --- | --- |
| Size | Rated torque M2 [Nm] | Min. static torque at 120 °C M4min120[Nm] | Standard power [W] | max. Hub bore [mm] |
| 0A | 0.15 | 0.1 | 3 | 3 |
| 01 | 0.5 | 0.3 | 8 | 6 |
| 02 | 1.4 | 0.8 | 10 | 8 |
| 03 | 2.7 | 1.8 | 11 | 12 |
| 05 | 6.1 | 4 | 12 | 15 |
| 06 | 12 | 8 | 18 | 18 |
| 07 | 24 | 15 | 24 | 25 |
| 08 | 49 | 32 | 26 | 30 |
| 09 | 96 | 65 | 40 | 40 |
| 10 | 194 | 115 | 50 | 50 |
Standard voltage: 24 V | Special voltage: on request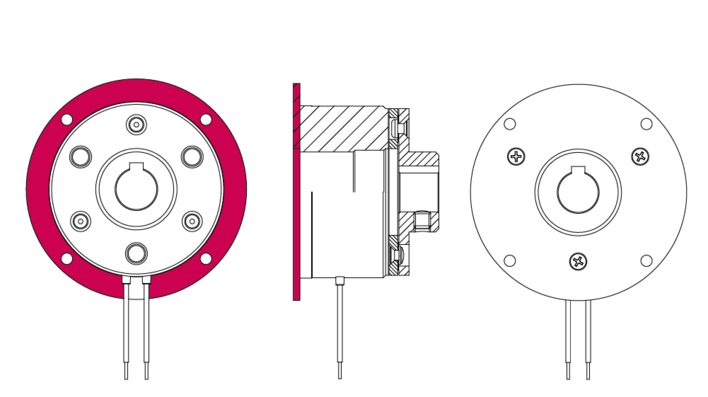 | | | | |
| --- | --- | --- | --- |
| Size | Bore [mm] | M* [mm] | L [mm] |
| 0A | - | 15.2 | - |
| 01 | 39 | 33.5 | 21.9 |
| 02 | 45 | 38 | 23.75 |
| 03 | 54 | 47 | 25.25 |
| 05 | 65 | 58 | 31.7 |
| 06 | 80 | 72 | 31 |
| 07 | 100 | 90 | 34.7 |
| 08 | 125 | 112 | 40.45 |
| 09 | 150 | 137 | 45.5 |
| 10 | 190 | 175 | 52.5 |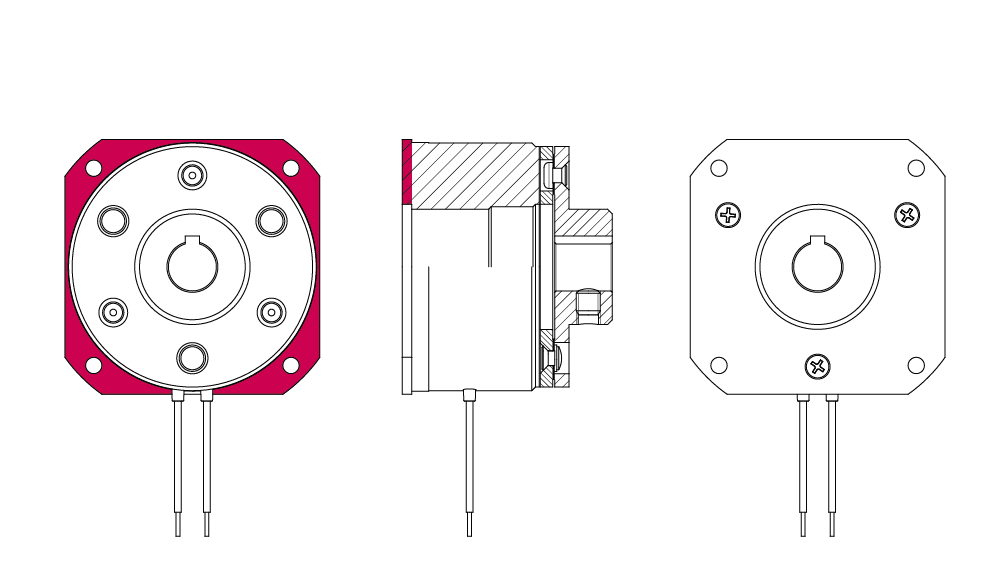 | | | | |
| --- | --- | --- | --- |
| Size | Bore [mm] | M* [mm] | L [mm] |
| 0A | - | 15.2 | - |
| 01 | 32 | 33.5 | 23.9 |
| 02 | 34 | 38 | 25.75 |
| 03 | 42 | 47 | 27.85 |
| 05 | 53 | 58 | 34.7 |
| 06 | 66 | 72 | 34.5 |
| 07 | 83 | 90 | 38.7 |
| 08 | 103 | 112 | 45.45 |
| 09 | 128 | 137 | 51.5 |
| 10 | 163 | 175 | 59.5 |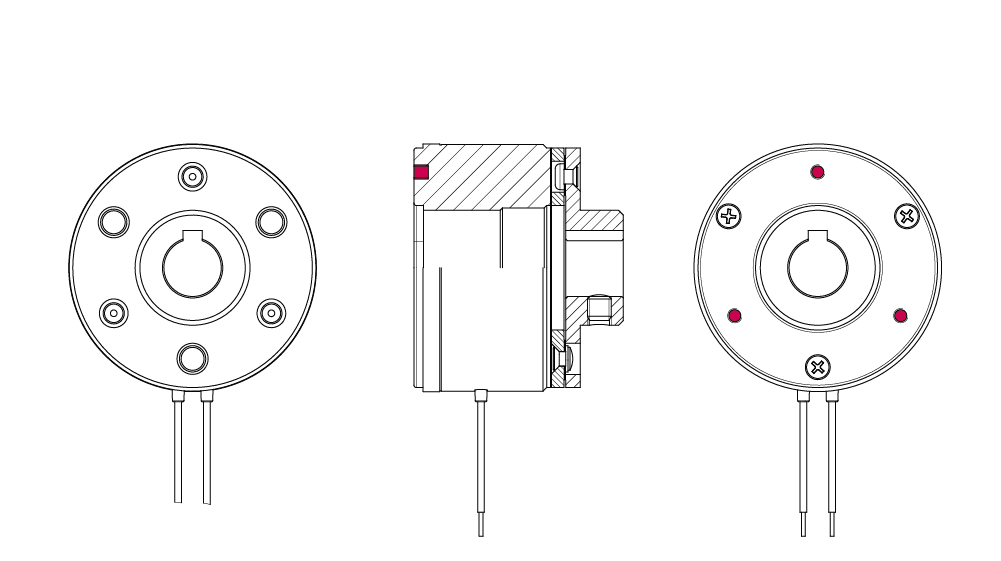 | | | | |
| --- | --- | --- | --- |
| Size | Bore [mm] | M* [mm] | L [mm] |
| 0A | 18 | - | 20.75 |
| 01 | 28 | 22 | 28.9 |
| 02 | 32.2 | 23 | 33.75 |
| 03 | 41 | 28.5 | 37.25 |
| 05 | 51.5 | 40 | 43.7 |
| 06 | 64 | 49 | 46 |
| 07 | 80.8 | 63 | 54.7 |
| 08 | 101 | 78 | 65.45 |
| 09 | 126 | 106 | 75.5 |
| 10 | 161 | 135 | 90.5 |
In use in these areas of application