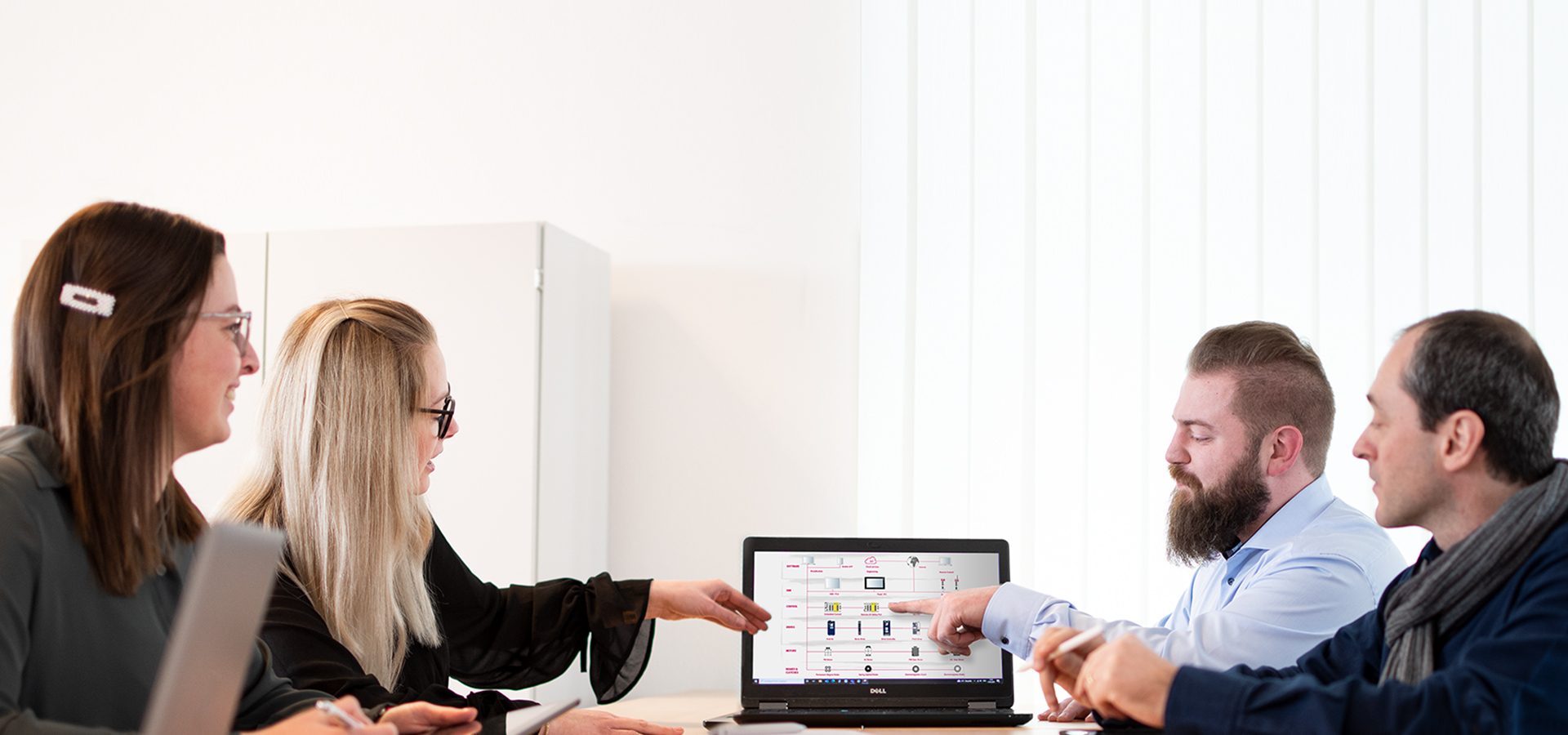 SYSTEMS SUPPLIER
A systems supplier for a wide range of applications,
we provide machine and plant manufacturers with
high-quality drive and automation solutions
from a single source.
EVERYTHING FROM A SINGLE SOURCE
THE SYSTEMS SUPPLIER FOR MODERN AUTOMATION
From wood processing and intralogistics to e-mobility, KEB Automation's products and applications are used in a wide range of areas. Set high standards with coordinated hardware components and software functions from KEB, the systems supplier for your individual requirements – high-quality, future-proof and all from a single source.
Make Your Automation Work
FROM OPERATING THE MACHINE TO POWERFUL OUTPUT.
KEB's complete portfolio is the basis for holistic solutions.
KEB SOFTWARE SOLUTIONS
THINKING DIGITALLY, INCEASING EFFICIENCY
Implementing automation tasks: thanks to COMBIVIS studio 6, programming or diagnostics for user interfaces is easier than ever before. Central functions are combined in the intelligent automation suite in a user-friendly way. Always stay in control, even remotely, with COMBIVIS connect.
HMI APPLICATIONS
A PICTURE IS WORTH A THOUSAND WORDS
The new HMI management system HELIO enables quick and easy creation of web-based applications without requiring any programming knowledge, as well as the necessary openness for customer-specific extensions. Just like a content management system radically simplifies the creation of websites, the new HMI management system supports the creation of HMIs in a unique way and revolutionises the development workflow. With a variety of HMI panels and panel IPCs, KEB also offers operating options to help you ensure that the processes in your machine or system run as desired.
OUR CONTROL TECHNOLOGY
EVERYTHING UNDER CONTROL
Highly automated applications need a reliable brain. Whether they are compact, flexible or secure, KEB's controls are driven by efficiency. A high degree of flexibility and the possibility for variable communication connection to other fieldbuses make our controls real all-rounders in complete systems or in the role of a subordinate controller. The Safety PLC manages the safety-oriented part in the entire system. Our industrial PCs come into play in demanding automation tasks: for installation on the control cabinet mounting plate as a box PC, a space-saving Book Mount version or with an integrated panel for simultaneous operation.
ALWAYS THE RIGHT DRIVE
FREQUENCY INVERTERS FOR EVERY OCCASION
Our high-performance drive controllers and servo drives are made in Germany and used around the world. With the COMBIVERT F6 and S6 drives, we are your partner for electronic drive technology for plant and mechanical engineering. They boast outstanding properties for precise speed, torque and position control. Whether controlled or regulated, with or without sensors, drive controllers from the COMBIVERT range offer real added value for a wide variety of applications. An added benefit is that thanks to energy supply and recovery systems, you'll see a noticeable reduction in your operating costs.
MOTORS – DYNAMIC, PRECISE AND POWERFUL
TRUE POWERHOUSES
Whether you are looking for three-phase, servo or geared motors, at KEB you will find exactly the right motor to meet your requirements. Do you need robust, universal machines with a wide performance range? If so, our asynchronous motors are the right choice for you. Synchronous motors with compact dimensions and high peak torque are ideal for highly dynamic applications. We offer you the option to assemble motors entirely according to your own personal requirements. This is possible thanks to KEB's modular system. This results in a wide variety of products and flexible solutions.
BRAKES AND CLUTCHES
MAGNETIC APPEAL: BRAKES AND CLUTCHES
When it comes to safe starting, braking or stopping, variety of brakes and clutches are put into action. Your individual needs can be easily met with spring-applied brakes (COMBISTOP), electromagnetic brakes and clutches (COMBINORM), permanent magnet brakes (COMBIPERM) and clutch/brake combinations (COMBIBOX). The production of brakes and clutches once laid the foundations for KEB, and even now electromagnetic solutions are in high demand in many applications.