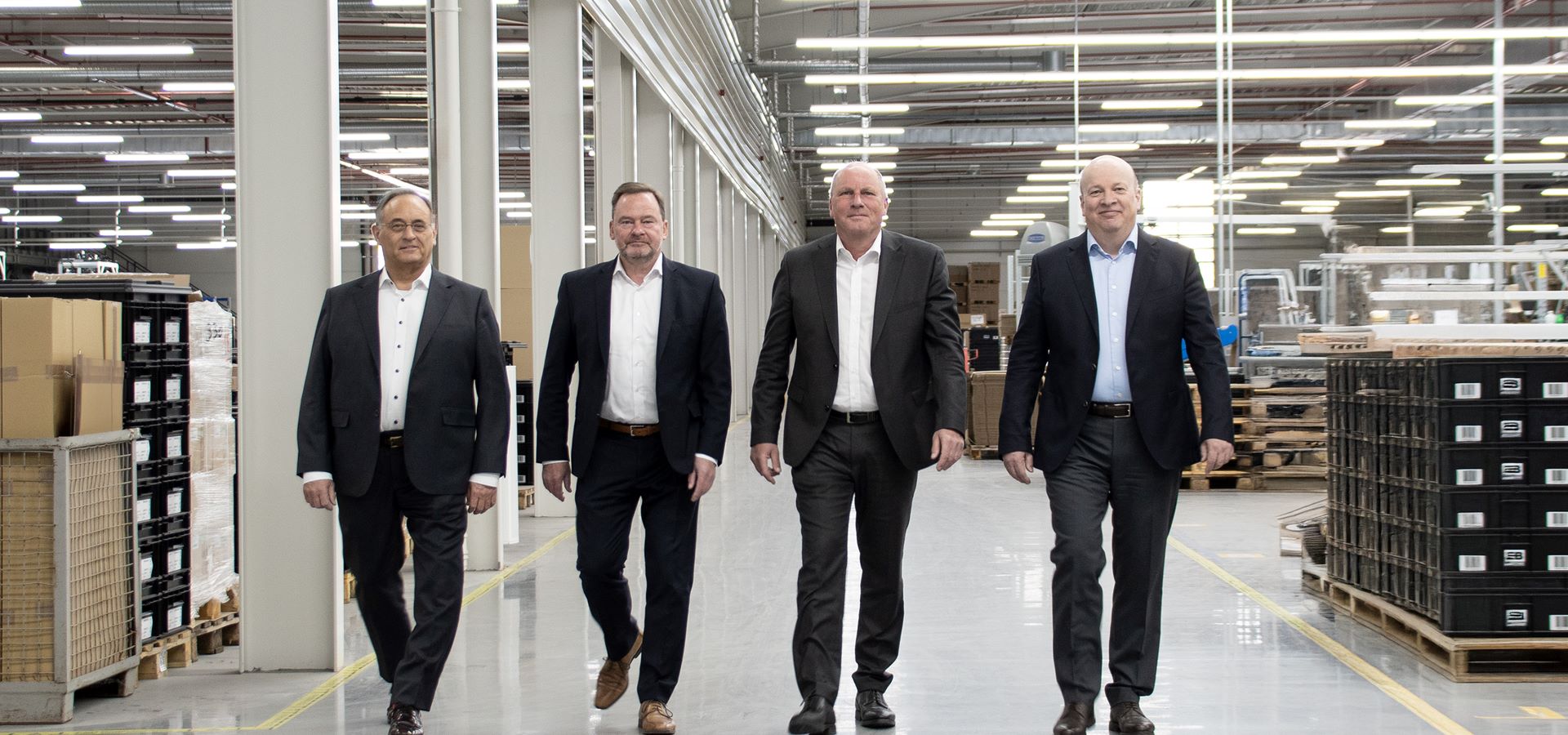 COMPANY PROFILE
Managed by its owners, responsible and with a strong team spirit, KEB Automation has always had clear values and principles that shape its innovative work and the company profile as a whole.
INNOVATION, QUALITY AND RESPONSIBILITY
AN OVERVIEW OF KEB AUTOMATION
KEB Automation is known for powerful, high-quality products. We always have one goal in mind, namely drive and control technology that is optimally tailored to your task. For the systems supplier, KEB, tradition and innovation are not mutually exclusive, rather they complement each other. You can sense this in our products, among our employees and in the way we think and act as a company.
What began in 1972 with six employees working on brakes and clutches, has now developed into a family business operating worldwide with a workforce of over 1,500. The former company, Karl E. Brinkmann GmbH, turned into KEB Automation in 2017. The addition of "Automation" to the name underscores our active focus as a systems supplier for mechanical and plant engineering. At the same time, KEB remains true to its values, and an entrepreneurial vision and being reliable for customers and employees are principles that have always been anchored in the company. KEB is now in the hands of the second generation of the family and is an established partner when it comes to automation solutions, from brakes and drive technology to the Industrial IoT.
WE ARE DRIVEN
BY YOUR SUCCESS
Fluid movements, maximum precision, endurance and dynamics are requirements that machines are expected to reliably meet. This is exactly where KEB has been supporting plant and machine manufacturers for decades. With high-quality components and systems, we contribute to greater efficiency and performance on a daily basis. Today's our system is the result of continuous technical developments and offers products that are perfectly coordinated with each other, from software and drive controllers to motors, gearboxes, brakes and clutches — all "Made in Germany" of course. We by no means take for granted the trust that is placed in us. On the contrary, it is this trust that motivates us to continue working ambitiously and passionately on the best products and solutions. Why? Because we are driven by your success.
OVERVIEW OF KEB
manufacturer and systems supplier of drive and automation solutions

corporate headquarters in Barntrup, East Westphalia, Germany

managed by its owners

1,550 employees around the world

high level of advisory/service expertise

14 national companies/representative offices worldwide

five sales offices in Germany
Service
TAILORED TO YOUR REQUIREMENTS
There for you when it really matters: our products and solutions are used around the world. That's why our sales and service network can also be contacted from anywhere in the world for rapid on-site support. Our dedicated service team provides expert advice and offers professional support for tasks such as project planning,installation or maintenance throughout the entire product life cycle of your machine or system. Various express service options ensure that even urgent requests can be dealt with quickly and easily. Application-based training rounds off our range of services. High-quality products provide the basis for this, along with our comprehensive commitment to quality.
RESPONSIBILITY
COMPANY LIFE
As a manufacturing company with around 1,000 employees based at the headquarters in the North Rhine Westphalian town of Barntrup alone, KEB has many responsibilities, both in our home region and around the world. The people in our company are the key to our success. For that reason, employees at KEB must have the best possible working conditions so that they can successfully balance work and private life. Long-term service with the company and employees who have spent their entire career at KEB are not uncommon. KEB also implements sustainability, for example, through a high degree of vertical integration. This reduces deliveries of external components over short and long distances, thus protecting the environment. We are also becoming increasingly involved in important future sectors such as e-mobility and wind energy. Guaranteeing top product quality is also part of our sense of responsibility, and every product is checked thoroughly before being shipped, which increases the longevity of our components and the satisfaction of our customers. Electrical engineering offers huge potential for solving sustainability issues as a company and for companies.
KEB's team spirit has been a driving force for half a century and plays a vital role in the company's success. Openness and tolerance are part of our company culture. This attitude is reflected at KEB through its attachment to its headquarters in the town of Barntrup, the East Westphalia-Lippe (OWL) economic area, the geared motors plant in Schneeberg (Saxony) and the sites of our national companies. Commitment to the region in combination with solid entrepreneurial decisions creates trust – also and especially in our role as an employer.
Company history
Keyfacts & Product ranges