Three new colleagues about their jobs at KEB
They are responsible for commissioning, repairs, optimisations and much more – the colleagues from the service department at KEB Automation. Recently, the division was able to welcome reinforcements, as three new employees took up their positions. They tell us how they came to work in the service department and report on how they deal with demanding customer orders.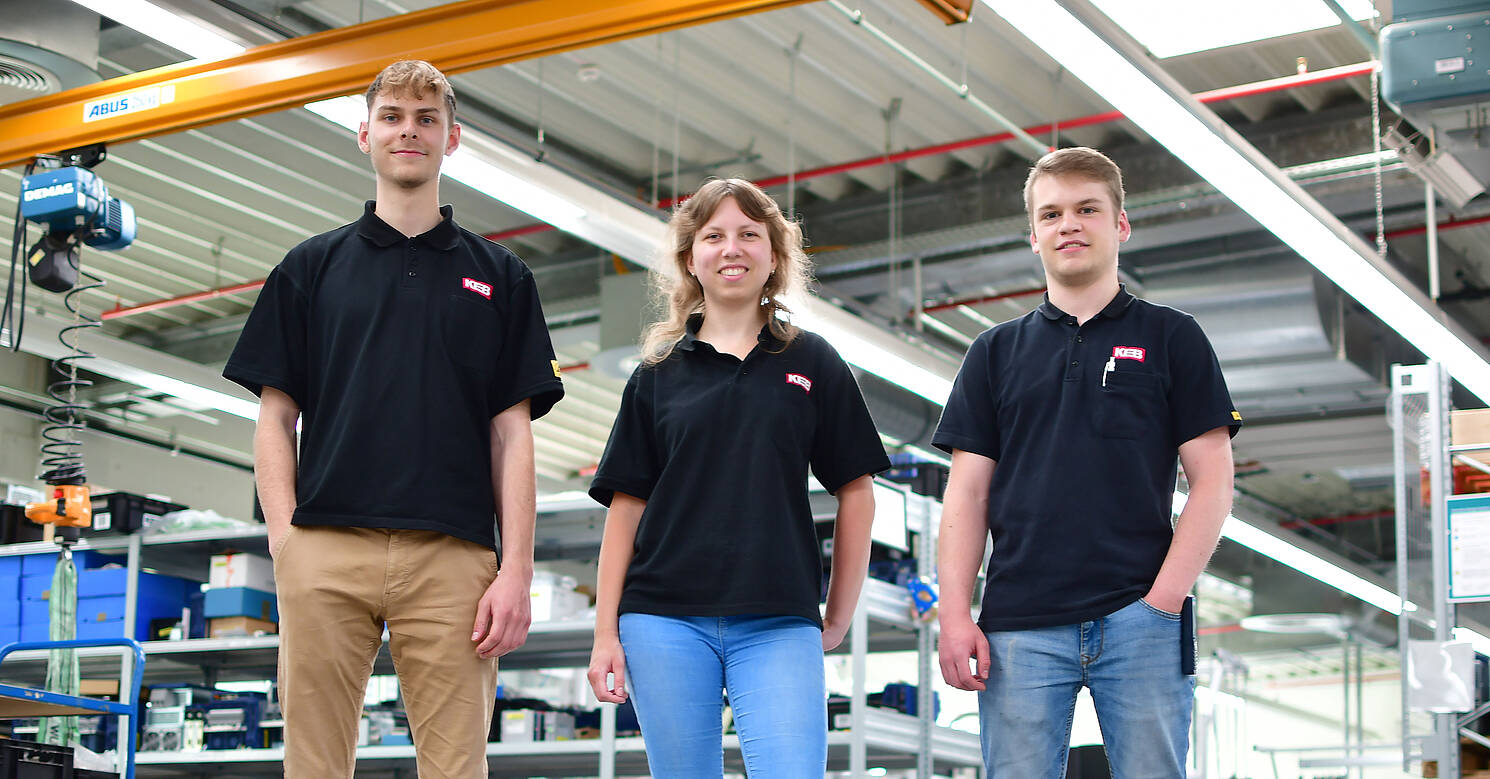 The Support and Repairs departments at KEB play a special role in service: the colleagues are a central point of contact when it comes to providing customers with help and advice. In doing so, they cover a wide range of services to meet the various needs – from repairs to retrofit solutions.

With Rebecca Stosch, Marcel Janzen in the Service Repairs division and Martin Engel in Customer Support, the department now has energetic support. The three have one thing in common: they have completed their apprenticeship at KEB. During the course of their training, they all worked in the service department and enjoyed the varied tasks. "Through the apprenticeship I already had a lot of insights into the department and knew some colleagues. That sparked my interest in the division. Some time before the end of my apprenticeship, I was asked by the head of service, Christian Olschewski, if I would like to join the department," Marcel Janzen describes his path to his current job.
Besides the cohesion of the employees, it is above all the variety that makes up the – often complex – work in the department and provides excitement. Direct contact with customers from the different application fields and business trips are also arguments that Stosch, Janzen and Engel mention as motivations for their work in the repairs and customer support department. In addition, the work is always full of surprises. "The support requests from our customers are almost always different and constantly hold new activities in store for us," says Martin Engel and Rebecca Stosch adds: "Even if you think you've already seen all possible repairs, you still learn something new every day. For particularly demanding jobs, I then consult with experienced colleagues or experts from development or other departments."
Basically, all three agree that accuracy and conscientiousness are important in order to do justice to the tasks in the service department. Especially in view of the fact that in the area of repairs, for example, one is the last instance to check the equipment on a technical basis before it goes back to the customer, these qualities are an advantage.
"Three new committed and competent colleagues in the service department – we are very happy about this "hat-trick". This has enabled us to strengthen our team even further so that we can continue to take care of all our customers' requests in the best possible way," says Head of Service, Christian Olschewski.
Your contact at KEB Automation