COMBIVERT F6 & S6 Drives: Which device variant for which purpose? (Part 1)
What distinguishes the device variant "COMPACT" of the frequency inverter
The COMBIVERT F6 Drive Controller and COMBIVERT S6 Servo Drives from KEB Automation combine frequency inverter and servo drive in only one device. In the performance range from 0.75 kW to 450 kW they control the most different motor technologies, increase efficiency and reliably ensure safety. A total of three different device variants of the F6 and S6 are available. But what features characterise the respective versions and for which applications are they suitable? A look at the "COMPACT" device variant.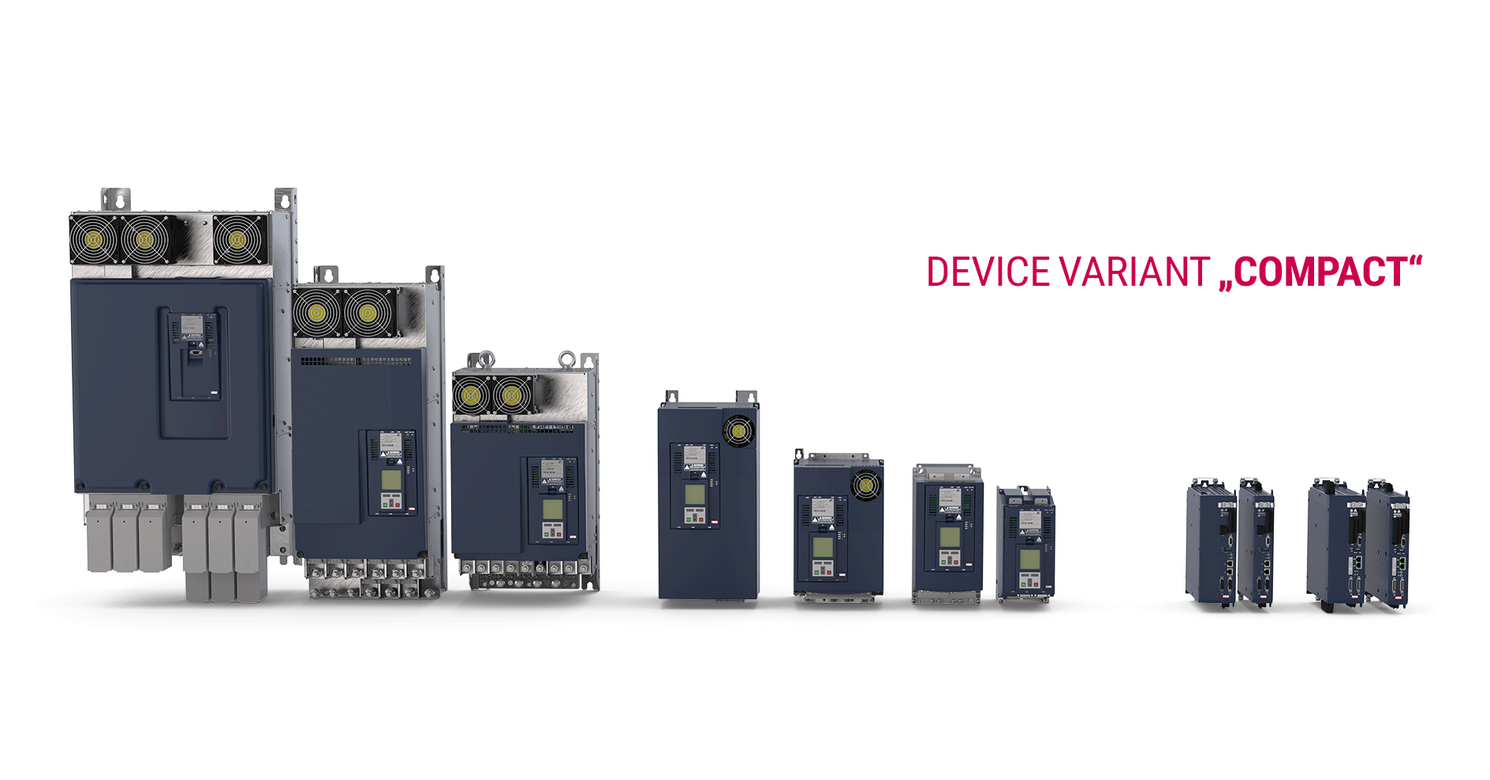 COMBIVERT F6 Drive Controllers and COMBIVERT S6 Servo Drives are used in machines and systems all over the world and provide the right drive. Plastics technology, wood processing, the packaging industry or intralogistics are just a few of the numerous application fields in which F6 and S6 take care of speed, torque and position control. Specially developed for servo applications, the S6 is also designed for overloads of up to 250 percent. Since the respective applications differ in their requirements on the drive technology, KEB has three different device variants of the F6 and S6 inverters in its portfolio in order to be able to offer the most suitable solution.

The "COMPACT" variant enables serial fieldbus communication via the EtherCAT fieldbus system, which is also used in KEB's control technology. Not only the wide distribution on the market, but also the speed, economy and easy implementation make EtherCAT one of the most important fieldbus standards. In addition, communication is also possible via VARAN, with which machines and systems can be connected via a powerful and inexpensive real-time Ethernet. In addition, F6 and S6 in the "COMPACT" version have the communication interfaces CAN and diagnostics RS485/232 and a multi-encoder interface.

Integrated safety functions

"Functional safety plays a key role in plant and machine construction – and this is also reflected in our COMBIVERT F6 and the S6," says Stefan Höltke, Product Manager Drives at KEB. Functionally safe system solutions for machines and plants are based at KEB on a consistent architecture right down to the mechanical interface. By means of safety functions directly integrated in the drive, motion sequences in the machine or system are controlled, regulated and monitored at all times. The goal: to minimise the risks posed by technical equipment to people and the environment. Specifically, the drives in this variant are therefore equipped with Safe Torque Off (STO). Triggering this safety function leads to an immediate interruption of the energy supply in order to switch off the driving torque as quickly as possible. The drive stops.

"With their properties, F6 and S6 in the 'COMPACT' variant are particularly well suited for applications in which EtherCAT or VARAN are used as the fieldbus and STO is sufficient as a safety function," says Höltke. This is the case, for example, in the field of plastic injection moulding machines.
Read in part 2 which benefits the APPLICATION device variant offers.
Your contact at KEB Automation