Frequency inverter with extended power range
Drive Controller COMBIVERT F6
Implementation of new machine concepts with extended requirements for power, communication and integrated safety: The COMBIVERT F6 drive controllers cover the complete power range from 2.2 kW to 450 kW. Whether with or without encoder is irrelevant, the F6 controls different motor technologies such as asynchronous, synchronous servo, synchronous reluctance, IPM, torque, linear and high-speed motors.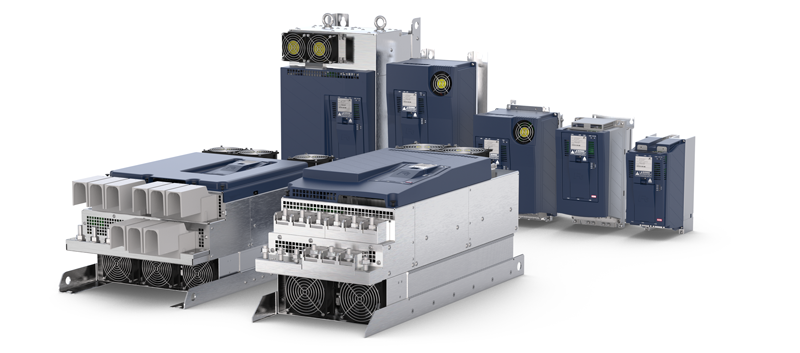 Bus changeover with digital "switch"
Ethernet-based bus systems can be switched via software, thus enabling flexible connection to the higher-level control system via EtherCAT, Profinet, Powerlink, Ethernet/IP or CAN. The COMBIVIS 6 commissioning and diagnostics software makes it easy for customers to use the various systems. Software wizards provide support for necessary adjustments. This makes it possible to optimize the drive system for different requirements even without detailed knowledge.
Various cooling concepts (air or liquid cooling) for control cabinet installation or as a push-through variant
Submounted filter
Recipe management
Defined standards like CiA402 implemented
Use of modern communication layers such as Ethernet over EtherCAT (EoE), Ethernet (Profinet), Ethernet (Ethernet/IP)
The safe operation of machines often requires safety functions for monitoring speeds, directions of rotation or axis positions. The PRO device variant of the F6 enables the implementation of encoderless safety. This means that safe solutions can be implemented, for example, in applications where no safe speed encoder can be installed on the motor. In addition to more individual machine concepts, encoderless safety functions also enable cost-efficient, simple motion monitoring. In addition, the effort required for maintenance and servicing is reduced. The integration of the safe fieldbus system "Safety over EtherCAT" (FSoE) plays a central role in the design of machine concepts. Conventional wiring is no longer required.
Your contact at KEB Automation