From F5 to F6: How to switch to the new inverters
The next generation of drive controllers in just a few steps
The COMBIVERT F5 drive controllers have been proven for a long time when it comes to open-loop and closed-loop applications in mechanical engineering. The new KEB Drive Controller generation – COMBIVERT F6 and S6 – opens up new possibilities and potentials for users to increase the efficiency of machines and systems. But how does the switch from the F5 to the F6 succeed and what has to be considered?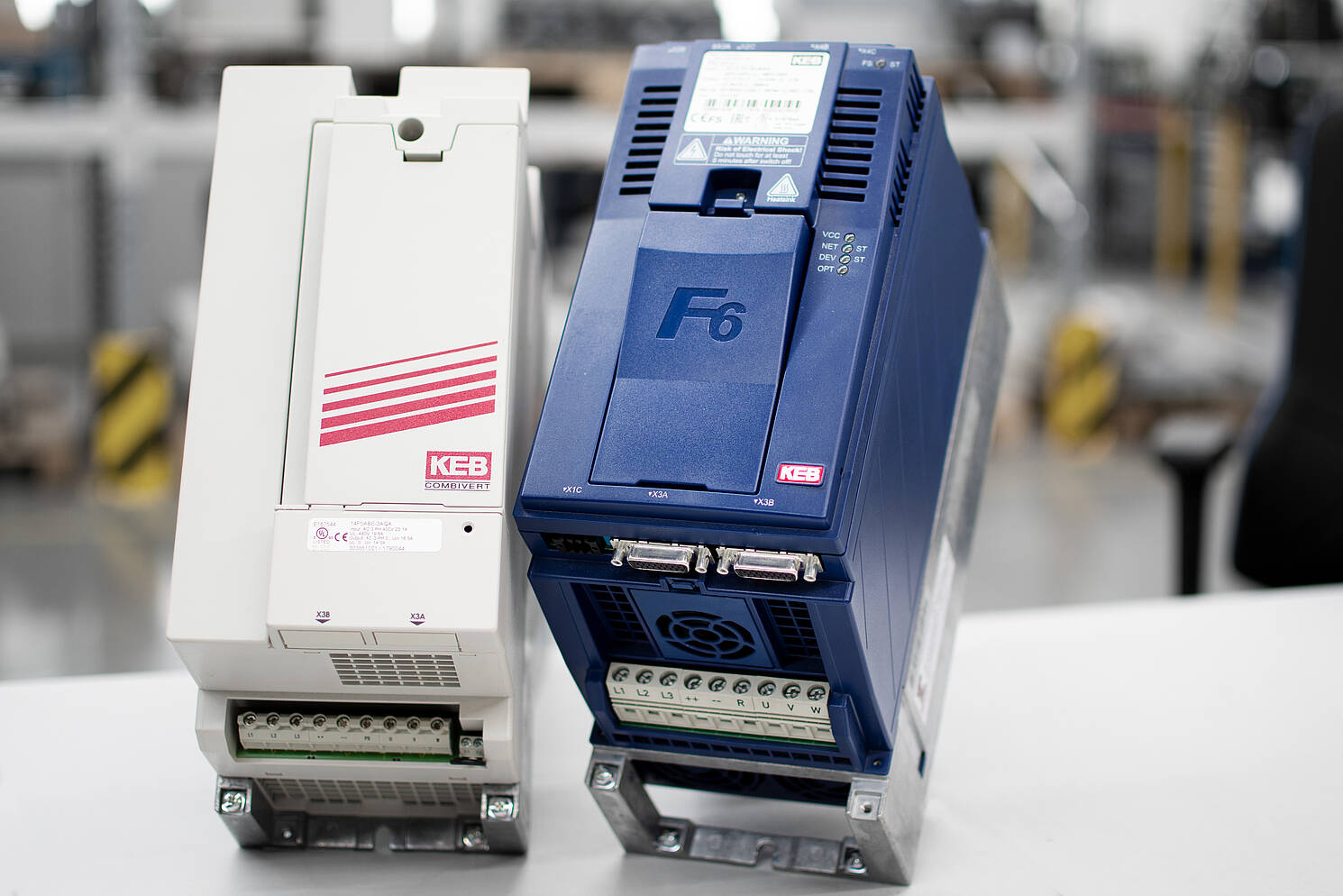 The requirements in machine and plant construction continue to develop – and so does drive technology. Against this background KEB Automation has introduced the COMBIVERT F6 Drive Controller as successor of the COMBIVERT F5. In numerous applications around the world, the all-in-one inverter already ensures maximum efficiency.
With a more compact design and a correspondingly optimised power density as well as improved cooling concepts, the F6 has features that take into account the changed demands of mechanical engineering. Further advantages are offered in daily practice by the use of modern bus systems and the possibilities of encoderless safety, which reduces wiring effort and costs. And last but not least, a wide variety of motor technologies can be controlled with the COMBIVERT F6. No matter whether asynchronous, synchronous, synchronous reluctance, IPM linear or high-speed motors are involved – it is possible to switch to the respective motor via software.
More and more users are turning to the new generation of drive controllers from KEB. The staff in KEB's service department provided support in the actual implementation of the change from the COMBIVERT F5 to the COMBIVERT F6. "Whether the request is for a new series machine or for existing machines is not decisive. In an initial discussion by telephone or on site at the costumer's, we record the requirements that the inverter must fulfil in the application," says Niels Haase, Service Support Coordinator at KEB.

These requirements include both mechanical and electrical aspects. In addition, the environmental conditions in which the machines and systems are used, acceptances and approvals as well as the desired software and hardware functions also play central roles in the joint discussion of the requirements for the use of the drives. "For better planning, we define a start and a planned end of the customer project for each conversion of the drive controllers. When designing the drives, we use simulation methods such as hardware in the loop, which often shortens the time required for the changeover," says Haase. "Apart from that, adapter solutions are also possible. When adapting from the F5 to the F6, the focus is then primarily on the pin assignment of encoders."

Before the new drive controllers are used in the machines and function smoothly there, they are tested in advance by KEB. Once the day of commissioning has come, users can again count on the help of the service team – on site or remotely.
Your contact at KEB Automation