Developing the founder's idea in a contemporary way
Bust in honor of Karl-Ernst Brinkmann unveiled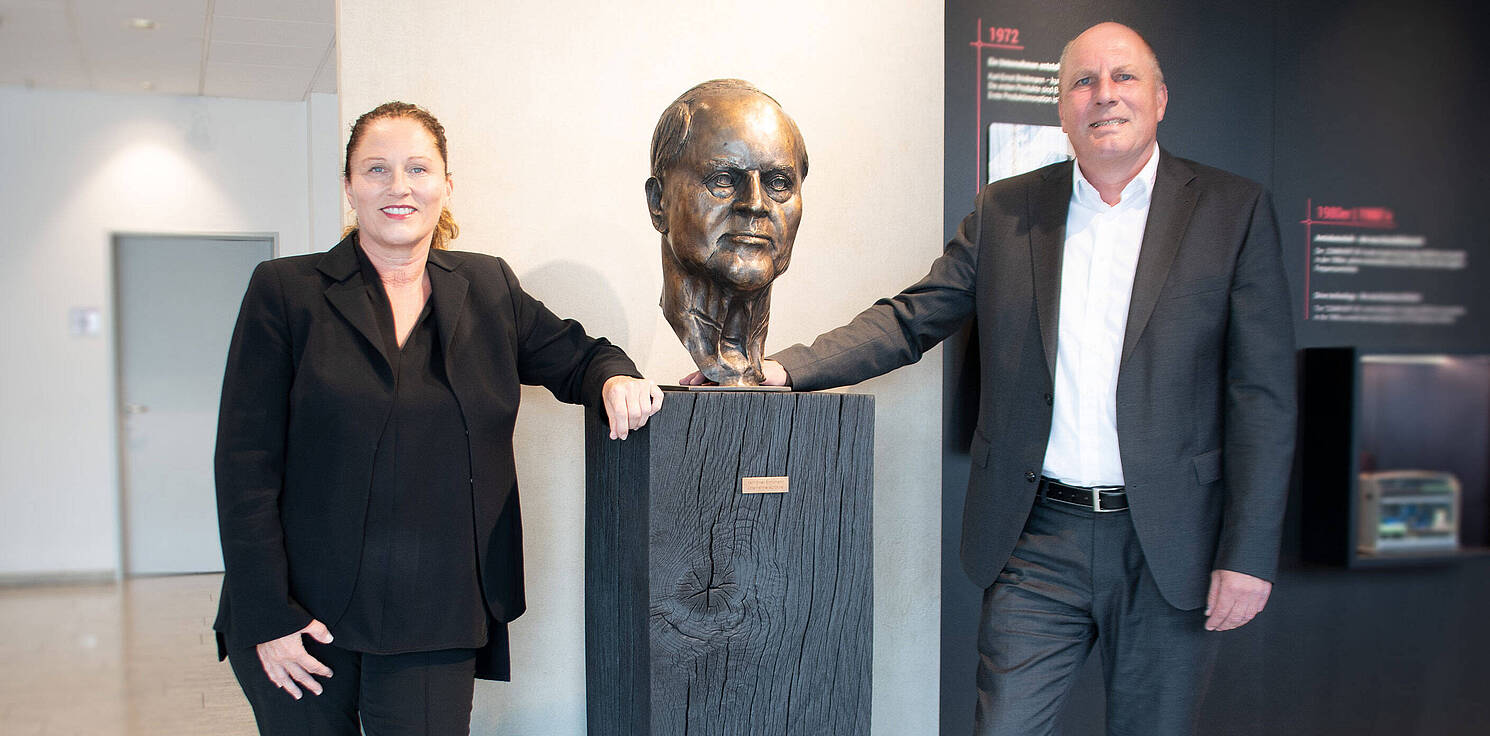 "As a family business, stability, trust, flexibility and shared values, as well as cooperation at eye level with all employees and partners are particularly important to us – ideals that our father already gave the company as a founder," explains Gabriele Tavella, shareholder of the KEB Group. Karl-Ernst Brinkmann – KEB for short – founded the company in 1972 as a manufacturer of brakes and clutches. Always driven by progress and further development, the portfolio is continuously growing.
The new foyer with the bust of Karl-Ernst Brinkmann reflects the product history since the foundation as well as the latest, highly innovative developments of the group of companies. The bust was created by the renowned sculptor Serge Mangin, who has also designed busts of the "fathers of the german reunification" – Helmut Kohl, George H.W. Bush and Mikhail Gorbachev – or the tenor Luciano Pavarotti. "The company anniversary last year was a good occasion to commission the bust as a gift to the company, but especially for our father," says Gabriele Tavella.
Still based at the founding site in Barntrup, KEB now employs around 1,550 people worldwide. "From brakes to motors and drive technology to Industrial IoT, we are driving proprietary developments," said Thomas Brinkmann, managing shareholder of the KEB Group. "In Barntrup alone, we have more than 100 development engineers working on drives and brakes." The addition of "Automation" to the company name, introduced in 2017, underscores the active orientation as a system supplier for mechanical and plant engineering.
The character of the family business is also carried on by the third generation, which already has a stake in the company.