Drive dimensioning: How to optimise your machine
Hardware in the Loop simulates the interaction of inverters and motors in advance
Difficulties in the dimensioning of drives are common – and this can have expensive consequences. If the interaction between frequency inverter and motor is not optimally matched, the risk of serious motor damage, for example, increases. KEB Automation's service anticipates this: Through virtual drive dimensioning, they detect potential obstacles in advance and commissioning is significantly accelerated.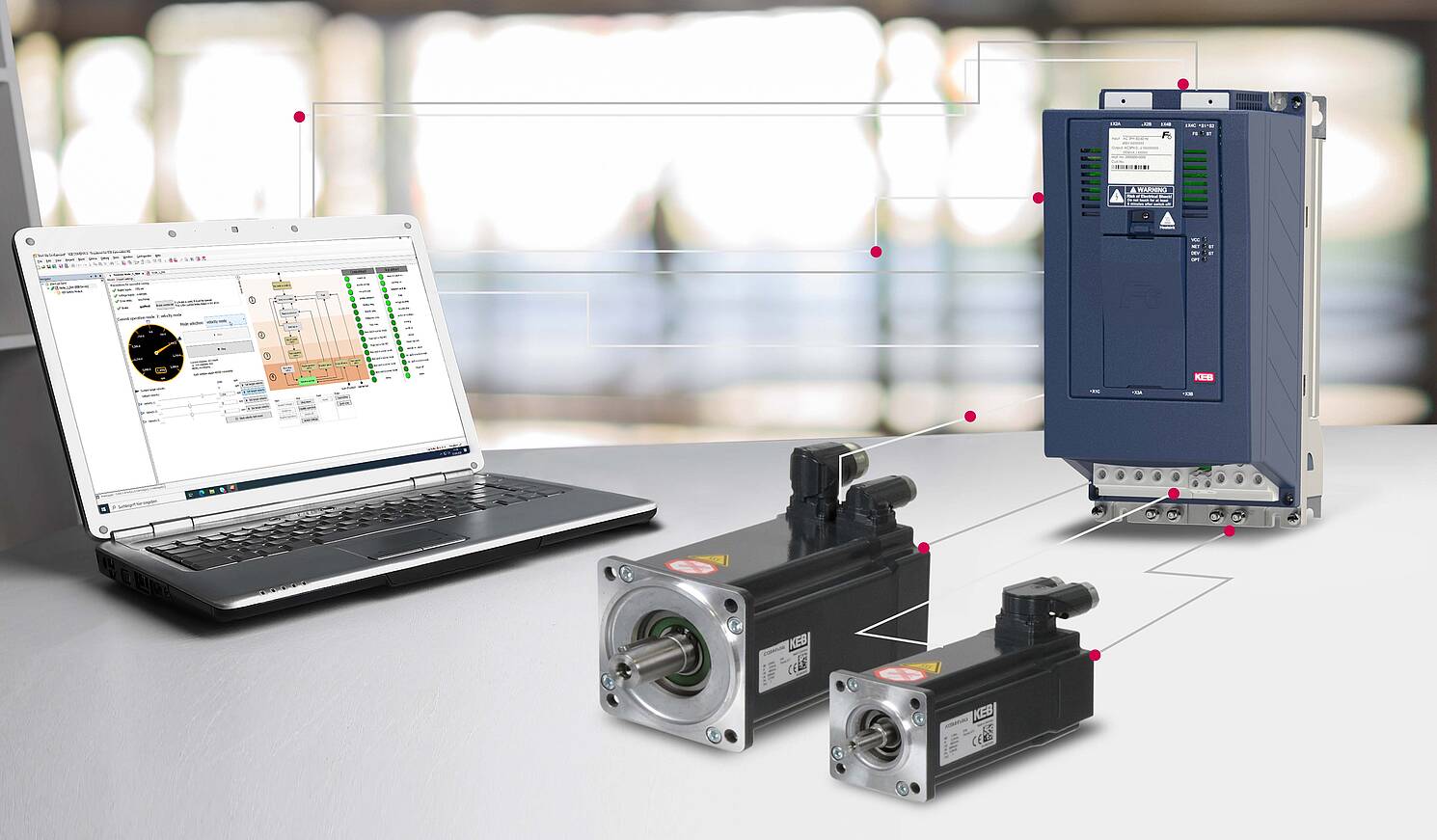 The correct dimensioning of motors for the specific application, the well thought-out selection of the right frequency inverter or the consideration of overload behaviour – numerous factors must be considered when dimensioning the drive for machines and systems in order to avoid damage and the associated additional costs. Niels Haase from KEB Service knows what that means in concrete terms: "It often happens that motors are dimensioned too weak for the requirements of the application from the beginning. On the other hand, it also occurs that inverters are oversized. This has a negative impact on the performance of machines and systems and, of course, leads to unnecessarily high energy costs." The reasons for incorrect dimensioning are diverse. For example, incorrect motor data may be available, on the basis of which the drive is subsequently dimensioned.
Virtual commissioning within one day
To ensure that no difficulties arise in the first place as a result of the dimensioning, KEB offers its customers a hardware-in-the-loop (HIL) simulation of the interaction between drive and motor. In this way, even before the actual commissioning on site, it can be checked whether, for example, parameterisation errors occur that could later lead to unstable operation of the machine or plant. The service recognises at an early stage whether the planned motor works optimally with the KEB drive controllers COMBIVERT F6 or S6 or whether, if necessary, another motor is suitable for smooth and efficient use. A possible later replacement of the motor or the frequency inverter is not necessary – this saves costs and resources.
And the advance simulation offers yet another benefit: if a conventional commissioning at a customer's site takes up to a week, the virtual variant can often be realised within a day. During this time, all relevant data as well as information on safety modules, fieldbus interfaces or suitable device variants (F6 Compact, Application or Pro) are carefully checked.
Suitable for all application areas
The drive controller data is selected via the KEB software COMBIVIS and then checked for compatibility with the available motor data in the simulation software. Among other things, speeds and load cases are simulated. The advantages resulting from the simulation are beneficial to users in a variety of application areas. "Basically, the virtual drive dimensioning is not limited to one area of application. Especially for high-speed applications – such as turboblowers or high-speed spindles – the service is recommended. Because here we are dealing with particularly extensive data. If these are not correct, it can quickly lead to significant damage in the machine," says Haase.
Your contact at KEB Automation